the Electronic Conveyancing Specialists
During the past 12 months CASA has been used to...
transact Property Value totalling £ 25.9 billion
generate £ 55.3 million in Fee Income
process 95,655 Transactions
50% More Completions without increasing staff
50% More Completions without
increasing staff
Our comprehensive electronic conveyancing case management solution significantly reduces conveyancing time. CASA, Track-A-Matter™, our On-line L@wyer Instruction™ service, along with your search provider are the tools for greater efficiency, whilst enabling you to provide a highly personal service to your clients.
SDLT returns are fast and accurate using the eSubmission tool. Seamlessly integrated with the HM Land Registry Business Gateway for obtaining title documents and updating the registry.
Fast and efficient communication via e-mail or SMS text messages.
Totally Automated; Seamless!
the Electronic Conveyancing Solution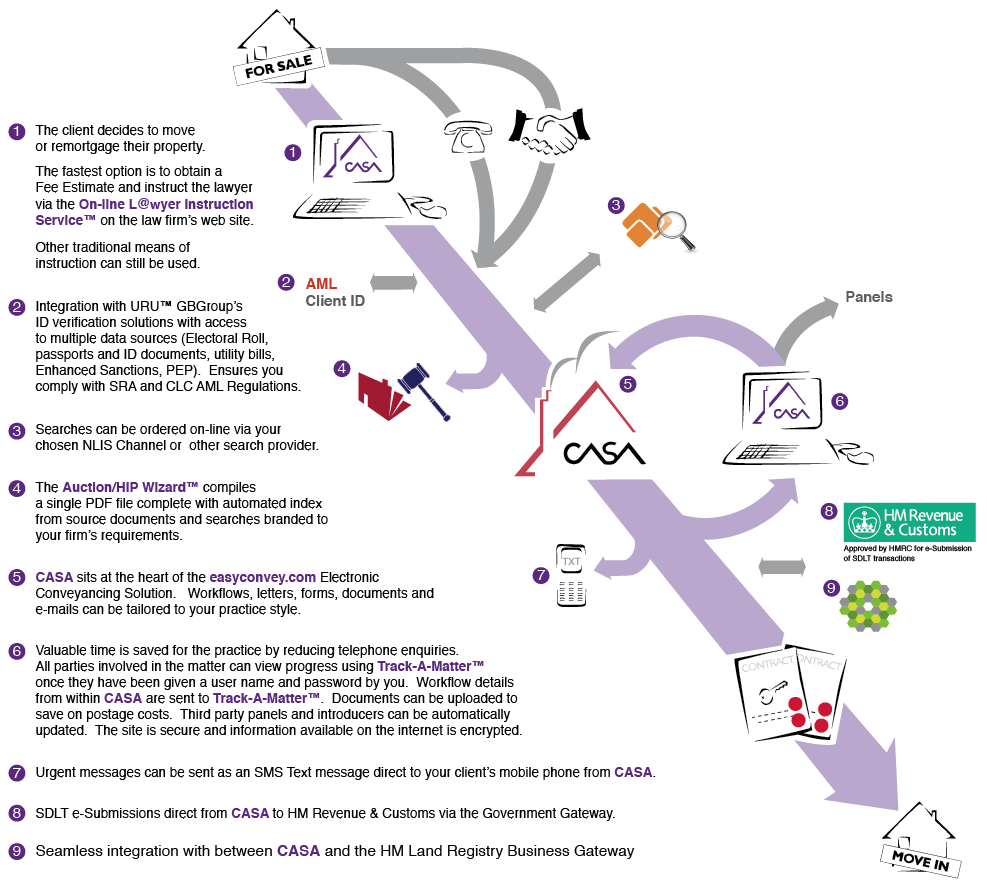 The client decides to move or remortgage.
The fastest option is to obtain a Fee Estimate and instruct the lawyer via the On-line L@wyer Instruction™ Service™ on the law firm's web site.
Other traditional means of instruction can still be used.
AML Client ID Verification
Integration with URU™ GBGroup's ID verification solutions with access to multiple data sources (Electoral Roll, passports and ID documents, utility bills, Enhanced Sanctions, PEP). Ensures you comply with SRA and CLC AML Regulations.
Searches can be ordered on-line via your chosen NLIS Channel or other search provider.
The Auction/HIP Wizard™ compiles a single PDF file complete with automated index from source documents and searches branded to your firm's requirements.
CASA sits at the heart of the easyconvey.com Electronic Conveyancing Solution. Workflows, letters, forms, documents and e-mails can be tailored to your practice style.
Valuable time is saved for the practice by reducing telephone enquiries. All parties involved in the matter can view progress using Track-A-Matter™ once they have been given a user name and password by you. Workflow details from within CASA are sent to Track-A-Matter™. Documents can be uploaded to save on postage costs.

Third party panels and introducers can be automatically updated.

The site is secure and information available on the internet is encrypted.

Urgent messages can be sent as an SMS Text message direct to your client's mobile phone from CASA.
SDLT e-Submissions direct from CASA to HM Revenue & Customs via the Government Gateway.
Seamless integration with between CASA and the HM Land Registry Business Gateway to order title documents and update the register.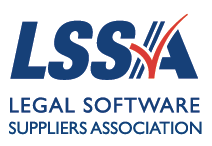 Easy Convey are a member of the Legal Software Suppliers Association. Dominic Cullis, our Managing Director is the Vice-Chairman of the association and Chair of the Regulatory and Land Registry Working Parties.
Some firsts in CASA by Easy Convey
1st
case management solution to integrate with the HM Land Registry Business Gateway.
1st
legal software application to register an SDLT e-Submission.
1st
conveyancing solution to accurately automate fee estimates.
1st
and only case management tool to include Stamp Duty Exempt Areas.
1st
to integrate with NLIS Channels.
1st
case management software to download conveyancing instructions.
1st
to integrate all local authority search fee information which is updated monthly.
1st
case management application to enable practices to send SMS text messages.
1st
electronic conveyancing application to provide automated case tracking.
© Copyright Easy Convey Ltd 2015